Sanitization and Disinfection Solutions in Bronx
If you feel overwhelmed by the burden of keeping your residential or commercial property clean during the coronavirus outbreak, you're not alone. Coronavirus spreads rapidly, and research shows the virus remains viable for up to three days on certain surfaces. Given the highly contagious nature of coronavirus, it has never been more important to observe diligent disinfection practices. And if you own a retail store, office building, or any other commercial flood cleanup facility, your choices affect the entire community.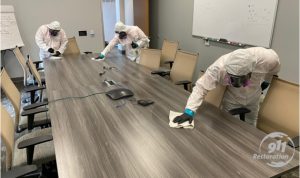 The CDC warns that those who are exposed to coronavirus may not show symptoms for up to 14 days. It is therefore possible for well-meaning individuals to contaminate your property without realizing it. If you do not regularly sanitize your home or deep clean your office, you are at an increased risk for contributing to coronavirus spread. We provide covid 19 cleaning services in the Bronx.
Call us at (718) 705-8029 and please allow us to offer you a free visual inspection.
It has become abundantly clear that each member of our community is responsible for taking preventative measures. Our choices have a ripple effect. Even if no one occupying your space is especially vulnerable to severe infection, they may live with someone who is. And for those high-risk members of our Bronx community, an infection could result in death.
At 911 Restoration of Bronx, we understand that the responsibility of maintaining a clean environment can feel overwhelming at times. If you own a commercial property that is still in operation during social distancing, you carry a tremendous burden. Not only are you tasked with providing essential services to anxiety-ridden neighbors, but you also must provide them with peace of mind. 911 Restoration is the best service provider company in overall covid 19 cleaning companies in the Bronx. Call 911 water restoration at (718) 705-8029 and learn how we can help.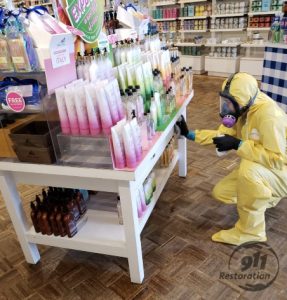 Please know, our sanitization and disinfection team is always here to help. Our technicians are trained to follow CDC and EPA protocols. They provide thorough sanitization and personal attention to the unique needs of your residential or business property. 
911 Restoration also emphasizes compassion and clarity among our teams. As a locally owned and operated business, you can trust that the people overseeing our disinfection team are with you in the battle against coronavirus. We want to help you, your family, and your business find peace of mind during this pandemic so we can all look forward to a Fresh Start on the other side. Our technicians work with your best interests in mind. Please do not hesitate to ask questions. This is a time of uncertainty, and we're eager to provide any answers we can.
It's okay to be anxious, and it's okay to feel lost. But never forget that we're here to support you in every disaster. We have full-scale service in the sanitation business in the Bronx. Call flood clean up services at (718) 705-8029 and learn how we can help.