Water Damage in Bronx
Weather Alert: If you are experiencing weather-related damage from the storm, call us today for emergency assistance! 
911 Restoration of Bronx
In the Bronx, several large buildings share a relatively small amount of space. For New York property owners, less space means more water damage. 
When a dishwasher or air conditioning unit leaks, water can do significant damage in a short amount of time. In the Bronx areas of Mott Haven, Allerton, and Woodland Heights, tall buildings with several units are especially vulnerable. A leak in one unit can quickly reach the unit below. It's a domino effect that can drive up the cost of repairs.
If you own property in the Bronx area, it's important to look out for signs of water damage. A dark stain on your wall or a musty smell are just some of the ways water makes its presence known inside your building. As soon as you notice them, it's important to find the source of the problem before it gets worse.
At 911 Restoration of Bronx, we offer a Fresh Start with our comprehensive selection of property damage restoration services, including but not limited to:
Whether you're a Bronx homeowner or business owner, 911 Restoration of Bronx is your Fresh Start! We'll communicate with you throughout the entire process, help answer questions related to insurance, and restore your property to its pre-damaged condition. One of our IICRC-certified teams is dispatched within 45 minutes of your call! Contact us today, and one of our friendly representatives will assist you in finding the nearest Bronx location.
Whether you own commercial or residential property, 911 the bronx handles water damage, mold removal, and more for Mott Haven, Allerton, Woodland Heights, and the surrounding areas. We have over 30 years of experience, and all of our branches are open 24/7/365 to handle your property restoration. When you have water damage, or any other problem, call us and we'll have an IICRC-trained professional at your door in 45 minutes or less. Call us at (718) 705-8029 and allow us to offer you a free visual inspection.

Water Damage Restoration
The Bronx area experiences many weather-related emergencies, including blizzards and hurricanes. Unless you're up-to-date on your building repairs, extreme weather could spell disaster for your property. An old roof is more likely to give in to pressure from a snow dam, causing leaks. A worn-out foundation is more likely to cave thanks to strong winds. A poorly ventilated basement is more likely to grow mold after water floods it. Without proper maintenance, appliances will malfunction, causing sewage backups, burst pipes, and other emergencies inside your property.
No matter where water damage comes from, the effects are a nightmare for any property owner. When you need flood water damage restoration in Mott Haven, Allerton, Woodland Heights, or the surrounding areas, trust our experts at 911 Restoration of Bronx. We handle problems every step of the way, from water extraction to drying, dehumidifying, and disinfecting. If your older building has structural damage or leaks, our friendly professionals will address them quickly and efficiently. For all your water damage restoration needs, call us today at (718) 705-8029.
Sanitization Services and Disinfection Solutions
These days, there's no such thing as being too careful. Whether your home or business needs a deep cleaning, 911 Restoration offers sanitization services and disinfection solutions.
In addition to wearing gloves, masks, and other protective gear, our team of cleaning professionals only uses techniques and products approved by the EPA and CDC. We stay up-to-date on the latest procedures in health and cleanliness to keep you and your residents safe. Whether you own a retail store, restaurant, or apartment building, our cleaning solutions help guarantee a safe environment for all.
Call us for more information.
Service area map
Mold Removal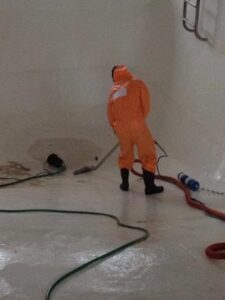 After water damage, mold is a common problem for property owners. Over time, mold can cause chronic health problems like dizziness, allergies, and coughing. It also ruins carpets, eats drywall, and rots wood.
When you own property in the Bronx area, the last thing you need is more stress. Maintaining property and keeping its residents safe is stressful enough. When you suspect mold is affecting your property, don't wait. Call our mold remediation experts at 911 Restoration. 
Our 911 mold restoration process includes safe removal and disinfection, as well as repairs of any damaged materials. Our state-of-the-art equipment will have your property dry in no time.
When you need mold remediation, contact 911 Restoration of Bronx at (718) 705-8029.
Sewage Backup Cleanup
Is your toilet struggling to flush or your shower slow to drain? Do you notice a bad smell or bubbling coming from your drains? All these are warning signs of a sewage backup. 
If you own older property in the Bronx area, your pipes are vulnerable to clogs. Sewage backups can come from city sewer lines or septic tank issues, but the most common cause is a pipe clog.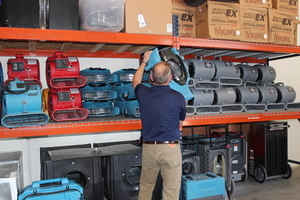 Without plumbing upkeep, a sewage backup can wreak havoc on your property in no time. When dirty water floods your home or business, it doesn't just ruin your flooring, furniture, or belongings. Wastewater carries all kinds of hazardous bacteria. 
In the unfortunate event of a sewage backup, call our trained staff at 911 Restoration for cleanup. Our team is equipped to remove and dispose of hazardous waste safely. Afterwards, we clean and disinfect the area thoroughly. We also inspect for water damage, mold, and any other issues caused by sewage backups.
The longer waste sits inside your property, the more dangerous it becomes. For fast sewage backup cleanup near me, contact us for same-day service.
Fire and Smoke Damage Restoration
At 911 Restoration, we hope your property never encounters a fire. Unfortunately, in crowded metropolitan areas like the Bronx, fires spread quickly, leaving properties with smoke, soot, and structural damage.
If your property has any of the above, look no further than our compassionate crew for fire and water cleanup and restoration. In addition to soot removal, puffback cleanup, and soda blasting to remove smoke, we can help with cleaning and storing your belongings. Our team also does effective odor removal, so you can get the Fresh Start you deserve.
For full-service fire damage restoration, call us today at (718) 705-8029.
Disaster Restoration
Whether it's a fire, flood, or blizzard, disasters can leave you unprepared. When extreme weather or a man-made disaster affects your property, turn to us for disaster restoration.
We'll repair your building after a fire or extract water after a hurricane. We'll even board up your property in the event of an emergency, and move and store your belongings safely. With over 30 years of experience as a national brand, you can trust we've seen it all. Mold removal, sewage backup cleanups, and fire damage restoration are just some of the ways we help our customers. When the worst happens, call us to protect and restore your property after a disaster.
Commercial Restoration
If you own commercial property in the Bronx area, don't let an accident or emergency disrupt your business. At 911 Restoration of Bronx, we handle all kinds of commercial flood cleanup. If your restaurant needs fire damage restoration, or your retail store needs professional sanitization, we'll have a team onsite to tackle same-day repairs. 
We also help commercial property owners with insurance claims, because we know managing a business is already a lot of work. At 911 Restoration, we work with all insurance companies, and we offer services like expert assessments and help with paperwork and direct billing. Call us to find out more at (718) 705-8029.
Serving the communities of Allerton, Baychester, City Island, East Bronx, Hunts Point, Morris Park, Mott Haven, Parkchester, Port Morris, Soundview, Throggs Neck, Wakefield, West Bronx, Woodland Heights and surrounding areas.