Water Damage and Mold Removal Parkchester
If your home becomes flooded due to a heavy storm or an overflowing toilet, you can call the water damage Parkchester technicians at 911 Restoration of Bronx and we will be at your home within 45 minutes to being extracting water and drying the premises.
Our mold removal Parkchester experts have many years of experience in the industry, and know exactly what actions need to be taken to get your home restored, so we offer same day services for all water-based situations, including:
Pipe bursts and other plumbing issues

Flooded basements

Crawlspace condensation

Sink, toilet and bathtub overflows

Clogged gutters and downspouts

Roof and ceiling leaks

Storm and other water-based disaster damage

Sewage backups

Fire sprinkler malfunction

Washing machine leaks

Ruptured hoses

Leaking ice machines and other refrigerator issues
Our mold removal Parkchester members understand the importance of a speedy recovery when it comes to water situations, so we stay available 24/7/365, ensuring that whenever a homeowner calls us, we will be there to help.
We know how to get your home back on track after it has been affected by a water disaster, so call our IICRC certified water damage Parkchester techs and we will provide you with a free home inspection.
Providing You With Professional Mold Remediation
Conducting the visual inspection will help our mold removal Parkchester professionals locate the source of the mold infestation and figure out the best solution to your problem.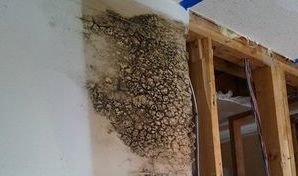 Our water damage Parkchester team will look for signs like leaks, dampness, cracked drywalls, discolored ceilings and foul, musty odors.
We know for sure that when water is allowed to stagnate for a mere 24 hours, it can create the moist environment perfect for mold to thrive, which is why our mold removal Parkchester staff emphasizes fast action.
Immediate action is necessary in order to stop an expansive growth, so you can count on the water damage Parkchester technicians to arrive equipped with all the gear needed to begin cleaning the home.
We use vapor barriers to stop spores from spreading all throughout the home, so once those are set up, our mold removal Parkchester agents will implement air movers, dehumidifiers, air purifiers and wet vacs.
For the most fast and efficient mold mitigation services, call our water damage Parkchester specialists today!
Using Most Advanced Water Damage & Mold Cleanup Techniques In The Industry
Since mold usually develops as a side effect of a water-related issue, our mold removal Parkchester pros always make sure to stay equipped with the most advanced water removal technology in the industry when we are on a mold job.

Our water damage Parkchester crew makes every effort to be at your home at your earliest convenience to begin home restoration procedures, which is critical to preventing mold growth.
If we do discover that mold has began the infestation process, then our water damage Parkchester unit will do whatever it takes to get your home clean and safe again.
Call our mold removal Parkchester operation at 911 Restoration of Bronx today and we will make sure you get the most efficient water damage and mold remediation care in the industry.