Disaster Restoration Bronx
All types of disasters need to be handled quickly by the trained professionals at 911 Restoration Bronx in order to sustain as little damage as possible.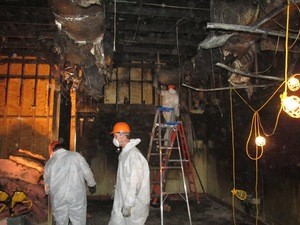 Professional disaster restoration is necessary after your home has been affected by a natural disaster, a pipe burst, a flood, a fire or any other unexpected emergency.
Most of the time these disasters involve water damage that can potentially destroy your property and the possessions inside, making it necessary for the disaster restoration Bronx team.
We offer same day service in emergency situations, promising to be at your home within 45 minutes of your call, in order to minimize the damage done to the property.
We keep our offices open 24/7/365 and have disaster restoration Bronx staff agents standing by to receive your call. When natural disasters such as rain storms, hurricanes and strong winds occur, this can lead to outdoor water flooding your home.
This makes the services of the disaster restoration Bronx crew immediately needed.
Our disaster restoration Bronx technicians are licensed, bonded and insured, making them fully capable of remediating all levels of water damage.
Call Us for Hurricane Disaster Restoration
If your home is damaged by a hurricane, immediately call the disaster restoration Bronx professionals. Thunderstorms, hail, snow and hurricanes are all common weather patterns, and from years of experience we know just how destructive they can be.
We offer the most comprehensive disaster restoration services in the industry, using state-of-the-art technology that makes it possible for us to repair virtually any type of damage.
When flooding occurs, it can mean many different things for your home. The water can be unsanitary, carrying health risks with it as it invades your property. It can also ruin your personal items, as well as the home itself.
When water soaks into the home it can then create mold, which has the ability to be hazardous to your health and ruin the property.
At 911 Restoration our disaster restoration Bronx agents always work extra hard to eliminate water damage before mold growth begins.
We Offer Professional Disaster Restoration Services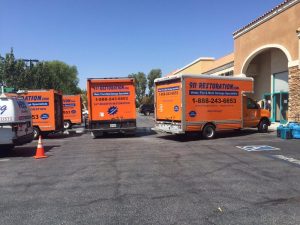 When it comes to professional disaster restoration, we make sure to offer affordable services to all of our customers. We will work with all major insurance companies, even working with your provider in order to get you the best coverage possible.
It is important to remember that when dealing with disasters, standard homeowner's insurance policies usually only cover damage done as a result of an internal plumbing problem in your home, such as a pipe burst.
If your home has been flooded, then that requires supplemental insurance that was purchased at least 30 days before the damage has taken place.
Our disaster restoration technicians are experts at both disaster restoration as well as insurance coverage, so we will do everything we can to get you the most out of your policy.
Our disaster restoration Bronx staff is here for you so call us today, so we can begin to give you the fresh start that you deserve.