Disaster Restoration Bronx
If you encounter a basement flooding or another disaster that needs an effective emergency restoration service, call 911 Restoration of Bronx. 
As a locally owned and operated business with franchises across the nation, our highly trained emergency Bronx disaster restoration staff is available 24 hours a day, 365 days a year with a guaranteed arrival time of 45 minutes.  Call us at (718) 705-8029 and allow us to offer you a free visual inspection. We provide services for storm restoration and hurricane restoration in the Bronx.

We care about the well-being and safety of our customers and work hard to provide efficient and reliable commercial restoration and residential restoration in the Bronx. 
Having a property ravaged by a natural disaster can cause an immense amount of stress and frustration. We understand the fears and anxiety this may cause our customers, and we're here to reassure you that we will provide the best service possible to put your mind at ease. 
Every professional on our staff is equipped with IICRC certification in full-service renovation. There are many water removal companies to choose from, and we thank you for doing business with us. As a trusted nationwide company, 911 Restoration of Bronx is fully licensed, insured, and bonded. Call us at (718) 705-8029 and learn how we can help.

With a specialty in flood water damage restoration in the Bronx and surrounding areas, we also make sure that leaks are sealed up and properly assessed. Our staff is also trained in mold removal, mold inspection, and mold remediation to ensure that your property is safe from health hazards and other long-term problems.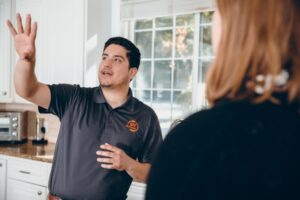 We can provide the following emergency disaster restoration services: 
Water damage restoration

Fire restoration

Sewage cleanup

Property sanitization and disinfection

Mold remediation and mold inspection in Bronx 

And more
Many commercial and residential properties experience extensive water damage. 911 Restoration of Bronx tries to keep the costs down, while providing quality service. We are transparent about the entire process. Whenever your home is damaged by a hurricane or other natural disaster, you know where to turn. Call the disaster restoration Bronx professionals for commonly experienced flood cleanup in Bronx or surrounding areas. 
Versatile and Compassionate Emergency Disaster Restoration Workers 
We can handle repairs after a thunderstorm, hurricane, snowstorm, or another environmental disaster that causes destruction to your home. The destruction these disasters leave behind include a flooded basement at a Bronx property, or broken pipe. As disaster restoration experts with years of experience in the business, we can handle anything that comes our way. 911 Restoration of Bronx can provide commercial restoration or assist you with structural repairs at your home.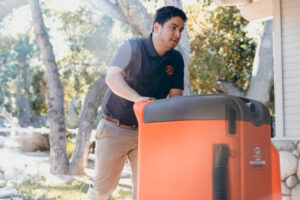 We offer the most comprehensive disaster restoration services in the industry, using state-of-the-art technology that makes it possible for us to repair any type of damage and provide speedy commercial restoration or residential restoration.
If you've experienced a flooded basement, sanitation and sealing up the moisture is one of our main concerns. Water and moisture left behind can be unsanitary, thus posing health risks and further damage to your property. Don't wait to get carpet water damage or a broken pipe or ceiling leak looked at when it's too late. When water soaks into the home it can create the potential for mold, which has the ability to be hazardous to your health. 
Leave it to the professionals at 911 Restoration of Bronx to help address mold removal in the Bronx and perform prompt and efficient mold remediation and flood cleanup to restore and repair your Bronx property. 
Our disaster restoration Bronx professionals work hard to eliminate water damage and deploy efficient mold decontamination and remediation techniques before mold growth begins. 
As a trusted water clean up service, we're here to provide mold inspection and speedy solutions to prevent any further damage. In fact, we offer a free visual inspection for property owners and can also walk you through a free insurance consultation. Our disaster restoration technicians are experts at both disaster restoration as well as insurance coverage, so we will do everything we can to get you the most out of your policy. You can also get the support you need and learn more about inventory and loss itemization and other services for your property repairs and flood cleanup. We provide storm restoration services in the Bronx, call 911 mold restoration at (718) 705-8029 and learn how we can help.
Speedy Emergency Restoration in the Bronx
When disaster strikes, you can count on 911 Restoration of Bronx to address the situation promptly and help repair your property in no time. 
Many properties in the Bronx experience extensive water damage such as flooding or winter storm damage, which will require prompt water damage restoration in the Bronx as well as speedy flood cleanup. 
The moisture that is left behind from the damage causes separate crises like a pipe burst or a flooded basement. These repairs require a skilled and efficient emergency water damage restoration worker to dry your carpets, remove moisture from tiles, and sanitize your space. Our highly skilled staff can provide assistance with mold inspection, mold removal, mold remediation, and mold decontamination at your Bronx property to ensure that fungus or other health hazards do not find a place to thrive and wreak havoc on your property. The goal is to restore, fix, and repair structural damage and to also address long-term problems and prevent any other issues from arising in the future. Call a trusted and reliable water extraction company, 911 Restoration of Bronx, to help you navigate this difficult time. 
Our emergency restoration staff is here for you 24/7, anytime you call. When they arrive on the scene, they work swiftly to remove water and dry your property. This fast response helps minimize your damage, which in turn minimizes your costs.
For emergency disaster restoration and flood cleanup in Bronx, and the surrounding area, call 911 Restoration of Bronx at (718) 705-8029 and learn how we can help. As a company specializing in water damage inspection, we'll be there in 45 minutes or less to help with mold decontamination, flooded basement cleanup, and more! 
We service the following areas for commercial restoration and residential restoration:
Service Area
Bronx
Mott Haven
Allerton
Woodland Heights
Surrounding Areas
A Fresh Start After Disaster
Starting over after a devastating fire or basement flood caused by an accidental or natural disaster can be difficult. We want to assure you that we are here to help you with the transition and assist with anything you need. 
At 911 Restoration of Buffalo, we embrace the Fresh Start philosophy. We believe every disaster is an opportunity to rebuild, better than ever. Beyond water cleanup, mold removal, mold decontamination, fire damage restoration, and smoke removal — we restore and rebuild your property, leaving it better than it was before.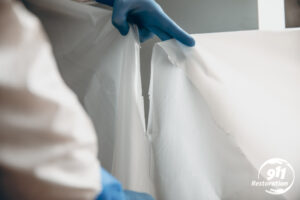 Our disaster restoration workers are all experts in structural repairs, mold removal in the Bronx, and anything else that needs to be restored, replaced, and repaired. In addition to being primarily known as a water damage restoration company, our staff is committed to carefully sanitizing your home or business. 
When you've been through a water damage disaster or another type of common disaster, you need a reliable and trusted name in disaster restoration. We stand out from other water removal companies and disaster restoration companies because we work with complete transparency and are committed to communicating with our customers on a regular basis. 
At 911 Restoration, we work to restore properties and lift spirits. Don't hesitate to give us a call whenever you're experiencing a disaster. You can count on 911 Restoration of Bronx for any residential or commercial disaster restoration services 24 hours, 7 days a week. We have years of experience in storm damage repair in the Bronx. Call emergency restoration services near me at (718) 705-8029 and learn how we can help.

Serving the communities of Allerton, Baychester, City Island, East Bronx, Hunts Point, Morris Park, Mott Haven, Parkchester, Port Morris, Soundview, Throggs Neck, Wakefield, West Bronx, Woodland Heights and surrounding areas.