Does Home Insurance Cover Fire Damage?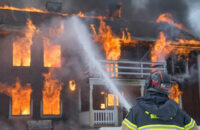 Your home is probably the most important asset you have, and seeing it catch fire is the worst thing that can happen. From cigarette burning your house to candle mishaps, the National Fire Protection Association reports 355,400 cases on average each year.
In this situation, it's best to be prepared, but if you haven't thought about getting a fire insurance policy, then you'll be happy to know that your home insurance covers fire and smoke damage to a certain extent. But understanding your home policy in detail is vital. Here are all the details you need. 
What is Home Insurance? 
Home insurance is a great way to protect your house 360-degrees. The standard home insurance policy covers your house and your belongings in the house from natural disasters, catastrophic events (fire damage and smoke damage), and other harm. Moreover, home insurance policies are "package deals." It means your insurance covers your liabilities and legal responsibilities, including your pets. 
What's Covered Under Home Insurance In Fire Damage and Smoke Damage
Your home insurance policy might cover many things depending on your "package," but when it comes to fire damage, here is everything that's covered. 
Structure of Your Home 
Home insurance covers you for the damages done to your house's structure, belonging, and attached structure (garage). This means that if your kitchen catches fire and it reaches your garage, everything that's damaged might be paid for or replaced by your insurance company. 
If you cannot live in your home during the rebuilding process, your home insurance covers your dwelling cost. Just be careful how you spend your money; it might be considered a luxury expense if you order steak every day. 
Structure On Your Property 
Home insurance covers all the structures on your property, but they aren't attached to your house. For instance, if you have a shed in the backyard and it catches fire, your insurance company might be liable to cover the damages. 
Personal Belongings 
Homeowner insurance isn't limited to the material structures on your property. In fact, it can cover the loss of personal belonging due to fire. For instance, if you lose your clothes, furniture, and electrical appliances, your homeowner insurance will cover that. Additionally, homeowner insurance might cover landscaping damages. 
Sometimes, fire spreads quicker than you can call your home restoration service in Boston. In this event, the fire might damage the shrubs and beautiful plants you have on your lawn. If you properly file your insurance claim, your insurer will become liable for covering the damages to your landscape. 
Depending on where you live, home insurance might also cover wildfire damages, but you have to read your insurance policy carefully. Be sure to pick the brains of your insurance provider and ask them beforehand about what's covered and what's not. 
What Coverage Limits Do I Need to Protect My Home From Fire and Smoke Damage?
There is no short answer to this question as your home insurance covers all your property's belongings and infrastructure. The more, the merrier is the key, but you can set your coverage limit by evaluating the things in your house plus the value of your property. Here are some more things you can consider when choosing coverage limits. 
Choosing Personal Property Coverage Limit 
Fire eats almost everything in its path. What it can't consume, it stains with a black cloud making your belongings unusable or unsellable. If you think your current home insurance isn't enough to pay for all the belongings in your house, you can consider a more premium package. Moreover,r your default insurance for jewelry items might be less than what you own. So you'll need additional insurance to cover that. 
Choosing Structural Damage Repair Limit 
The cost of repairs to your 20-year-old house might be higher than what you evaluated two decades ago. It's best to get an idea of how much it'll cost to repair your house after fire damage. That'll help you set your home insurance's best structural damage repair limit. 
What Other Home Insurance I Have Against Fire and Smoke Damage?
Talk to your insurance company about what other options you have in case of fire damage. Sometimes, your home insurance alone isn't enough to cover large real estate properties. You might need additional insurance for it. Therefore, asking your insurance agent is in your best interest. Nevertheless, here are two other insurance policies you can opt for in case of fire damage. 
Replacement Cost Value (RCV) – Covers the total cost of repair or replacement that might incur after fie damage.

Actual Cash Value (ACV) covers the actual cash value of the items damaged in a fire. RCV – Depreciation. 
Protect Yourself and Your Home From Fire Damage 
Fire damage is a catastrophe that can hurt physically, financially, and emotionally. At 911 restoration, we understand what you are going through. Therefore our services are readily available to help you in distress. We have 45 minutes response time in Boston all day, all year, so you can peacefully sleep at night knowing someone is out there ready to help you!